Written by Snigdha Basu | Updated: March 21, 2016    Pakistani-Canadian cleric Tahir-ul-Qadri said Pakistan and India have a common enemy - terro
Written by Snigdha Basu | Updated: March 21, 2016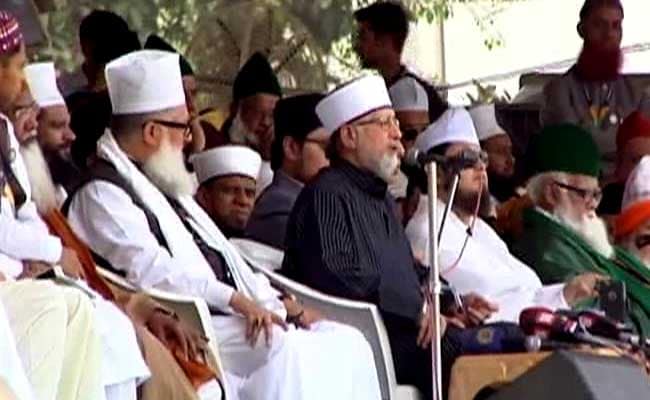 Pakistani-Canadian cleric Tahir-ul-Qadri said Pakistan and India have a common enemy – terrorism.
NEW DELHI: 
Four-day World Sufi Forum in Delhi which witnessed gathering of prominent Sufi leaders from across the world made a unanimous call for peace and compassion. At the meet, Sufi leaders from Canada, US, UK, South Africa and Pakistan condemned terrorism and violence.
Over the last four days, Sufi scholars, intellectuals and academicians have discussed ways to spread the message of peace as advocated by Islam.
On its concluding day at Delhi's Ramlila Ground, the All India Ulama and Mashaikh Board (AIUMB) urged the government to promote Sufi literature, music and culture countrywide. Speaking to NDTV, AIUMB President Syed Mohamed Ashraf said, "We request Sufi centres to be built in Delhi and in all state capitals. This will help people learn and practice Sufism."
The AIUMB also released a charter of demands seeking national integrity. In its 25-point agenda, the Sufi outfit demanded that teachings of Sufism be introduced at all levels of modern and religious education across schools and universities.
Addressing the forum, Pakistani-Canadian cleric Tahir-ul-Qadri said, 'Pakistan and India are not enemies, they have a common enemy-terrorism'.
The Sufi leaders condemned terror groups like Taliban, al Qaeda and ISIS and appealed to the people to shun extremist organisations that misinterpret the Quran.
At the conference, a special focus was laid on women rights in Islam. Women leaders, artists and writers also participated on a talk on Islam and the role of women as peacemakers.
On Thursday, Prime Minister Narendra Modi attended the inaugural ceremony of the four-day meet at Vigyan Bhawan. Denouncing terrorism, the Prime Minister had said Allah has 99 names and none of them stands for violence.