Express News Service | New Delhi | Updated: March 21, 2016 12:30 pm President of All India Ulama & Mashaikh Board (AIUMB) Syed Mohammad Kachhuchvi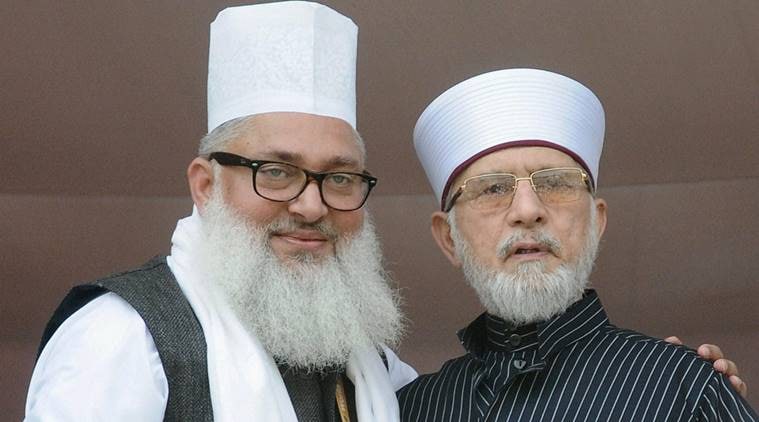 President of All India Ulama & Mashaikh Board (AIUMB) Syed Mohammad Kachhuchvi with Muhammad Tahir-ul-Qadri in Pakistani politician and Islamic scholar of Sufism, during International Sufi Conference at Ramlila Grounds in New Delhi. (Source: PTI)
Speaking at the venue, AIUMB founder president Syed Muhammad Ashraf said, "We are hopeful that the government will pay heed to our requests and keep in mind the interests of Indian Muslims." 
A charter of demands unveiled during the World Sufi Forum organised by the All India Ulama and Mashaikh Board (AIUMB) has asked the government to alleviate the "sense of fear" among Muslims over riots and urged PM Narendra Modi to rectify "historical blunders" in India that brought in extremist ideologies.
"There is a sense of fear among Muslims due to riots. The government should alleviate this fear and Union Home Ministry should spell out what steps have been taken with regard to all small or big communal incidents and riots that have taken place so far in different parts of the country," the AIUMB said in the 25-point charter, which was released on the concluding day of the event at a packed Ramlila Maidan Sunday.
Speaking at the venue, AIUMB founder president Syed Muhammad Ashraf said: "We are hopeful that the government will pay heed to our requests and keep in mind the interests of Indian Muslims…. Over the last few decades, there have been concerted efforts to weaken Sufism in India and replace it with an extremist and radical ideology. This recent phenomenon is dangerous not just for the Muslim community, but also for the country itself. We now request our honourable Prime Minister to rectify these historical blunders and kindly meet the demands of millions of Sufi followers in India."
The charter called for establishing a central Sufi centre in Delhi and in all other capital cities. It also demanded establishment of a Khwaja Garib Nawaz University, creation of "Sufi Corridors", a review of the Waqf Amendment Bill and a decision to set up a national corporation for development of Waqf properties.
– See more at: http://indianexpress.com/article/india/india-news-india/pm-modi-urged-to-rectify-historical-blunders-world-sufi-forum/#sthash.8fqdJHiX.dpuf