Written by Mohd Faisal Fareed | Lucknow | Published:September 2, 2015 12:00 am AIUMB chief Kichhowchhawi said Modi is a ruler 'who got the seat with
Written by Mohd Faisal Fareed | Lucknow |
Published:September 2, 2015 12:00 am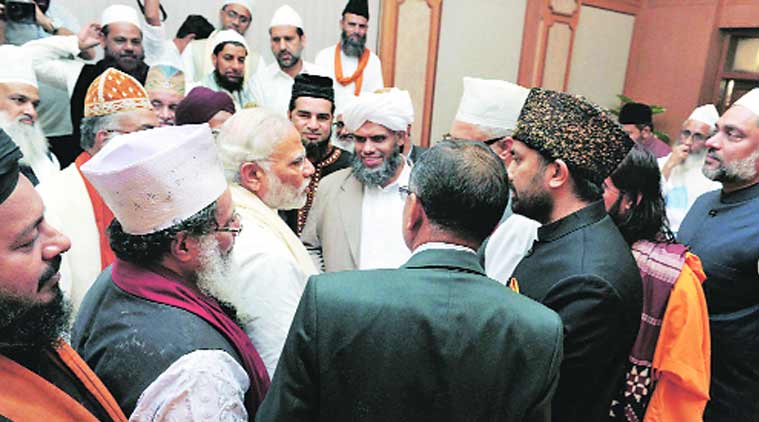 AIUMB chief Kichhowchhawi said Modi is a ruler 'who got the seat without our votes and is still listening to us'.
THE ALL Indian Ulema and Mashaikh Board (AIUMB), an organisation of Sufi Muslims, has reaffirmed its commitment to work with the Narendra Modi government for countering terrorism and fundamentalist ideology in the country. It has also assured all help in setting up education centres to control fundamentalist ideology.
"The AIUMB will help prepare the syllabus for such open education centres in Muslim areas where peaceful religious courses are taught. We (Sufi Muslims) are against terrorism and consider it against Islam. We cannot support anything that is unIslamic," Syed Mohammad Ashraf Kichhowchhawi, founder and president of AIUMB, told The Indian Express.
 "Sufism is a way of life and is above religion. It stands for peace. Wherever Sufi ideology got weakened, terrorism grew. The example is Kashmir," he added.
On August 27, Kichhowchhawi had led a team of about 40 Sufi clerics, who interacted with Prime Minister Narendra Modi. The PM had told the delegation that ideology propounded by Sufi saints was integral to Indian ethos but forces of extremism are trying to weaken it. He had asked them to counter such forces through various avenues including on social media, so that the ideology of extremism does not take root in India.
Praising Modi, Kichhowchhawi claimed that past rulers did not care for Sufi Muslims. "Those who ruled the country and for whom we voted traditionally, never cared for our issues. This is a ruler who got the seat without our votes and is still listening to us. He does not need us. He does not look at everything with an eye on the votes," the Sufi cleric said.
Kichhowchhawi, however, parried questions on whether Sufi Muslims will support BJP. "We did not discuss politics and vote bank. So, let us not raise it here," Kichhowchhawi said.
Earlier, after meeting Modi, the Sufi clerics had said that the divisive politics of votebank has resulted in the Muslim community interacting with the government only through intermediaries. They said they want the Prime Minister to establish direct contact with the people of India, including the Muslims.
In his Mann ki Baat on Sunday, the PM spoke about his interaction with the Sufi leaders.
"I had the opportunity of meeting Sufi saints and scholars… Perhaps, it has become the foremost need for the world to know the true picture of Islam… I am confident that Sufi culture, which is associated with love and generosity will spread this message far and wide. It will benefit Islam as well as humankind," he said.
The AIUMB had submitted a 15-point memorandum to Modi, demanding among other things, a statement by the Union Ministry of Home Affairs on action taken by the government in controlling communal riots and ensuring that they do not recur. They had also demanded setting up of a Sufi centre in Delhi, creation of a "Sufi circuit" to promote tourism, and relaxed visa norms for tourists visiting Sufi shrines.
– See more at: http://indianexpress.com/article/cities/lucknow/he-modi-does-not-look-at-everything-with-an-eye-on-votes-says-sufi-cleric/#sthash.zFyvQkd7.dpuf